Second Halter Finished!
I finished the older girls size halter top in my sweetheart fans design. I have the pattern posted on my website.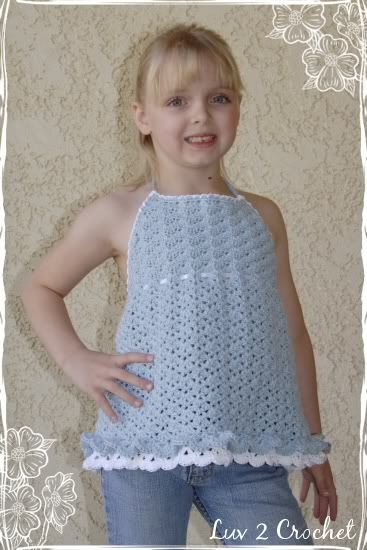 Now Im going to work on getting that pink crochet hat (the one on my website home page) pattern written to add to my free patterns page, and also the shrug pattern for free also.
I've also been sewing! I am making my girls some skirts to go with the halter tops I make them. I purchased a couple of skirt patterns on www.youcanmakethis.com and have been sewing away! I had to stop at the ruffle part and ordered myself a ruffler foot for my machine so I dont have to hand ruffle it (I tried it and it's very tedious if you're a beginner!).
My daughters birthday party is this weekend so I will be working on getting the drawstring goodie bags sewn up and finished before the party. The girls will be doing some crafts, playing bingo after they color their bingo cards themselves, and will be decorating their own cupcakes. Then they get to go home with their own personalized (first initial) drawstring goodie bag! Should be fun!