New Pattern
I finally got my pink summer hat pattern written up and posted to my website! I had to rework it to remember what hook size I had used!
My yarn order from
knitting-warehouse
came today so I will work on redoing the patriotic peasant top and finish geting the pattern written up for it.
I also want to update my lacy shells tank top with the new style I had designed a while back for someone's daughter. I had started writing out the design as I worked it, but then quit because the lady wanted it quickly to take pictures of it with a skirt she had, so I never finished writing it out. Here's the top I made and added beaded cherries to it, but will probably do it without the cherries for the design.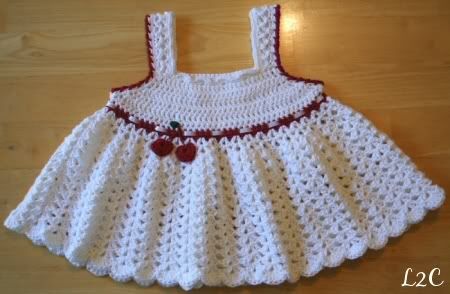 My daughter's birthday party was this last Saturday, it went very well! We even finished on time! I forgot to get pictures of the drawstring goody bags, but they were a spring green and yellow (like the blue bag in the posts below) with a yellow lining, and I had added their first initial with rhinestones like the grip bags below.
After all the party guests left, we took the kids to see Shrek the 3rd, it wasnt ALL that great. Definately could have waited to rent the DVD. I liked the first one much better.
Last night we went and saw Spiderman 3, I thought it was a pretty good movie! I had seen the first Spiderman, never saw the 2nd, and my husband was reeeeaaaallllly wanting to see the 3rd so we did. It was pretty good I have to admit :o)
My oldest daughter has a teddy bear that she just adores. She's had him for almost 6 years now. Last week she wanted me to crochet an outfit for him. She picked out the colors and told me what color goes where. She wanted a shirt and pants for him, so I just did a one-piece. The outfit is a bit girlie but she doesnt seem to mind and neither does Mr. Teddy :o)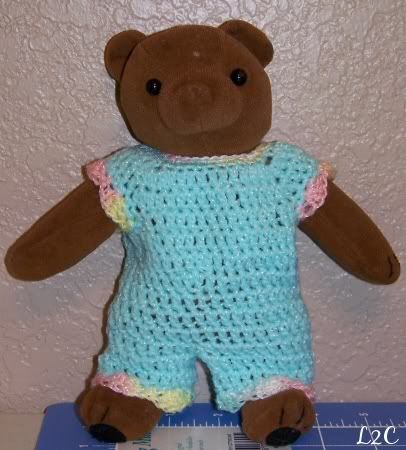 I am going to show my daughter how to crochet a poncho for him. My daughter can do chains currently, so I will show her sc's next and then she can do a chains and sc poncho for him.
I have decided to homeschool my kids next year. My youngest will be home-preschooled while my other 3 will be homeschooled. Since we dont live on base anymore (where their schools are) it's been quite the driving back and forth taking them to school (and with gas prices up so high *oh my*). We dont want to put them into the public schools here in town (having problems with my stepson's current school already and it's supposed to be the best school here in town). Plus I will get to spend more time with my kids. With gymnastics 3 times a week, they go straight from school to doing their homework, then get ready to leave and head to gymnastics for 3 hours, come home, eat dinner and go to bed. I look forward to working on their schooling with them and spending more time with them. I am also going to include learning how to crochet/knit and how to sew as their extra activities.