Would you be interested?
If I created a tutorial on how to make crystal/beaded little girls earrings (ok, because I wear them too they arent just for little girls)? I thought about creating an e-book complete with plenty of pictures, list of tools & accessories needed to create the earrings, where I purchase my supplies, and offer it as a free e-book with any crochet pattern purchase. I love making these dangle earrings to match my crochet creations for my girls to wear.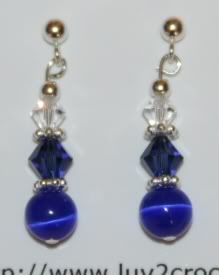 My tutorial will show the wrap around post design, instead of it cutting off at the loop.
Let me know if this is something I should consider doing, or not.
Thanks for any input!